Monte
Catherine McAuley was committed to the education of women and girls. Today, this commitment is carried on together with committed colleagues at Monte Sant' Angelo Mercy College, North Sydney.
Monte Sant' Angelo Mercy College is an independent Catholic secondary day school for girls, Years 7-12. Founded in 1875 by the Sisters of Mercy under the aegis of Mother Ignatius McQuoin, the College continues a tradition of excellence and innovation in Catholic education in the Mercy tradition. Monte has a strong academic record; in 2007 it became the first Catholic girls school in New South Wales to offer both the International Baccalaureate Middle Years and Diploma Programs. Monte's mission statement is expressed through the College motto: Religio Scientia Cultus - we are shaped and directed by what we believe, by what we know, by what we value. The Mercy values of respect for human dignity, compassion, justice, service to others, and commitment to the poor are central to school life. Students are actively involved in justice initiatives, e.g. St Vincent De Paul Night Patrol, Fair Trade Campaign, and Reconciliation. A diverse curriculum is supported by an extracurricular program including Music, Debating, Student Leadership, 16 sporting options, international tours and language-exchange opportunities. Students are supported by a sound pastoral care program. The learning environment is assisted by state-of-the-art digital learning resources and contemporary learning spaces.
College Mission
To provide girls with a quality education, rich in diversity of opportunity.
To encourage students to realise their potential within a strong, nurturing community based on Mercy values.
To prepare students for life by challenging them both academically and spiritually, and motivating them to make a positive contribution to their world.
Values of the Mercy Tradition
The Mercy tradition holds the following values:
Mercy, which means
To be COMPASSIONATE
To provide HOSPITALITY
To celebrate our TRADITIONS
Human Dignity, which means
To be RESPECTFUL
To value DIVERSITY
To EMPOWER each other
Justice, which means
To work for the COMMON GOOD
To be RESPONSIBLE STEWARDS
To be ADVOCATES
Service, which means
To foster EDUCATION
To ensure QUALITY
To address COMMUNITY NEEDS
Option For The Poor, which means
To be AWARE of the poor
To make a COMMITMENT to the poor
To EMPOWER the poor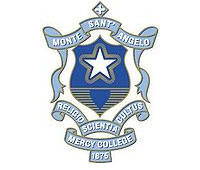 Monte Sant' Angelo Mercy College
128 Miller Street
North Sydney NSW 2060
(PO Box 1064, North Sydney)
Phone: (02) 9409 6200
Website: www.monte.nsw.edu.au
College Principal: Mrs Nicole Christensen