Mercy Foundation
Established 1990
The Foundation was established in the spirit of Catherine McAuley, who responded to the needs of her times in a practical and generous way. It was launched on 24th September 1990.
Mercy Foundation Mission
Animated by the Gospel and Catherine McAuley's passion for justice, the Mercy Foundation is a vehicle for continuing the work of the Congregation with people in the community who are poor, oppressed or marginalised. (Constitution of the Mercy Foundation Ltd).
In 2007 the priorities of the Foundation were re-assessed and the decision was taken to focus on women and children particularly those affected by homelessness and mental illness.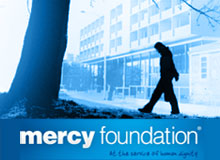 Touching another's life, speaking words that nurture, doing actions that build up, and giving life for another.